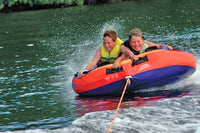 Made by and for jet boat enthusiasts.
We're just a couple guys who love boating. We've been making and sourcing hard to find jet boat parts for over 15 years and we can't get enough of it.  Can't find a part? We probably can. You can call or text Greg at 602-828-4890 or Charlie at 480-466-1802 from 8:00am-5:00pm MST or click here, we'll source almost any boat part you need even if you don't see it on our site. 

We're based in Mesa, Arizona, but we serve boating enthusiasts around the world.